The NeuroTek headstage power supply is a bench top tracking variable power supply. This power supply has a digital display to examine the voltage of each power channel and separate toggle switches for different power sources. Customized versions can have the addition of an isolated supply for powering amplifiers at 3.3V up to 5V.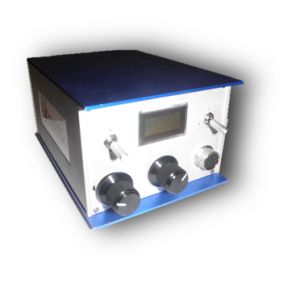 Property

Specifications

Size

6L" X 4W" X 3H"

NeuroTek Power

3.5V -10V, -3.5V to 10V, G, Adjustable, Powers Display

3.3V Aux Power

Optional, 3.3V, Isolated and not Adjustable (DG06S0503A
Delta electronics)

Display

Digital, no back light

Power Input

5 Pin DIN connector, PW300KA0012F01, AULT, Mouser
120VAC, 50-60Hz to DC(5V at 5.0A, +12V at 4.0A, -12V at 0.5A)

Headstage Compatible

1 NeuroTek GND, 1 AVATAR Ground

Headstage Compatible

Channels to HSTG-16-NT

Power Panel Output Socket

RM12BPE-5PH(71) Hirose

Power Panel Output
Plug

RM12BRD-5S(71) Hirose

NeuroTek Fuse

2 are located inside box (37311000410) Little Fuse Inc.
1.0 Ampere Max Current

3.3V Aux Fuse

Located on right side of box (0312001.HXP) Little Fuse Inc.
1.0 Ampere Max Current

Species

Product only intended for rodent use, this product is not approved for use in humans.